Over the past year we've all been made completely aware of a little thing called a pandemic! Each time therapists have returned to their clinics, we have had to ensure we are being as safe as we can. This has involved a risk assessment of our environment and also what information we need from the people we see. 
Obviously, if you in any way suspect you may have coronavirus, please cancel your appointment. I also commit to my clients that if I
suspect it, I will also cancel. Before your appointment you will receive a text or email asking you to confirm you do not have any symptoms.
During your consultation we will be asking if you've had the virus. If you have, it is really recommended you check in with a health professional before booking a massage, as it is currently thought there is the potentiality for micro-embolisms. These are small clots which could potentially move to areas of the body such as the lungs and brain and cause issues if you have a deep massage. The guidance for us may change while time goes on, and while the likelihood of us doing damage is small but we do like to err on the side of caution! 
If you have a vaccine please bear in mind you may experience side effects in the days after you receive it. Your arm will also be considered a local contraindication if you have a massage. This means it will be an area your therapist will avoid. You will see varying timescales regarding how long to wait after a vaccination before you have a therapy. Personally, I would recommend waiting a week, as this will allow your body to manage the vaccine, deal with any side effects and allow your arm a chance to heal. 
I'd like to make my clients aware I have had my first vaccination and until further notice I will be completing a lateral flow test twice a week. During a previous work placement I was receiving PCR testing and this may also take place when I return. Even if we have both had vaccines I will be following current advice on how to keep the clinic space safe. At the time of writing, this will involve wearing a face mask for your therapy. 
If I am made aware that I have had a Covid positive person enter my clinic space, I will close my clinic and contact PHE for further advice. If necessary, I will contact everyone or pass on the required details to the test and trace service. We have decided to continue with the previous arrangement, where currently only holistic therapies are available at the clinic. This reduces the risk of contamination and we have alternative procedures in place for other treatments. 
As therapists we have been made aware of long Covid and I have already watched a webinar about the potential problems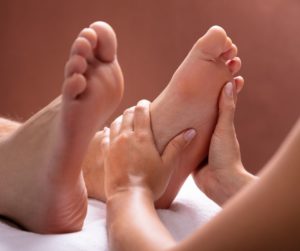 we may encounter. I am part of several facebook groups and it has been interesting to hear about how some people have found reflexology is helping them manage their symptoms. As usual, we do not claim to treat any illness but we do aim to support you as an individual. 
As before, I will be ensuring I ventilate the clinic between clients, the air purifier will be left on a low setting in the room and areas will be cleaned between clients. We want you to feel safe when you visit the clinic, and if you have any concerns or questions please do let me know. I look forward to being able to safely welcome you back to Therapy Centre again soon. 
Loui
se is an holistic therapist who owns Therapy Centre, BS14 9HB, a clinic offering a range of holistic and beauty therapies. Louise offers aromatherapy, reflexology, holistic massage, baby massage, reiki and story massage. She is a mum of two boys and when she is not working she enjoys getting outdoors with her family. For further information, visit her website louise-morgan.co.uk