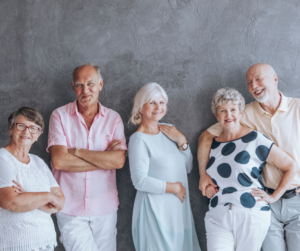 If you're an older person, you may be thinking you want to dip your toes into the holistic therapy field and find yourself wondering if it would be suitable for you. Personally, I don't place an age for defining an older person. Many people who come under the term of OAP don't meet the old traditional view we may have of someone who's old. In the 21st century, older people are thriving and many people I meet are living an active life and enjoying retirement.
If you are an active older person, then it is fine for you to be thinking about a massage, reflexology, reiki etc. We would need to know about any medication you're taking, but don't worry, it is unlikely to be a barrier to you booking appointment. For example, if your blood
pressure is controlled by medication we won't have an issue; if you're taking anti-coagulant medication we'll just want to know what it was for, that the initial issue has been dealt with and you're currently on a maintenance dosage. If you're worried about giving us this information, you can read my blog post explaining why it's important to let us know about medical issues. 
"I'm not sure I can get on the couch"
If you're an older person, you may have mobility issues. If this is the case, it doesn't mean you can't have a therapy, but it does mean you need to contact us. Get in touch with the therapist you want to book with, tell them your concerns and talk about your needs. Giving them a heads up means they can ask questions. They will want to understand more your limitations, so are likely to ask questions to work out if you'll be able to get onto a couch, if you need assistance getting out of chair, if you use a wheelchair etc. As therapists, we're used to encountering having to adjust the way we work, but it's useful to know before you arrive at the door! 
"How long should I book for?"
Treatment length is entirely up to you. I have some people in their 70's who will book an hour appointment as standard, while I have others who book half an hour – and that isn't necessarily just older people. Part of the aim of holistic therapies is to encourage you to listen to your body. What is it telling you? If you think half an hour is enough, book it. You can always change your mind for a later appointment.
So, regardless of your age, it's never too late. You can make a change whenever YOU decide it's right for you. I have a client in their 80's who hated having their feet touched and now has regular half hour reflexology appointments because they find it so relaxing – so go on, try something new, you never know you may love it! 
Loui
se is an holistic therapist who owns Therapy Centre, BS14 9HB, a clinic offering a range of holistic and beauty therapies. Louise offers aromatherapy, reflexology, holistic massage, baby massage, reiki and story massage. She is a mum of two boys and when she is not working she enjoys getting outdoors with her family. For further information, visit her website louise-morgan.co.uk