If you think of a hot stone massage you may think of a massage with stones laid on your back. While stones may be put on your back while it's not being massaged, it's not actually the main part of a hot stone massage session.
A hot stone massage actually involves being massaged with the stones. The stones are made of basalt and designed to retain the heat a little longer. They are heated in a special bag or a pot of water – both methods are fine and it will be therapist preference.
Different stones can be used for different parts of the body. There are small stones for between the toes or for massaging the face, larger stones to place on the sacral or for the actual massage.
One hot stone massage method is to begin by lying on hot stones, with stones between your toes, while your arms and legs are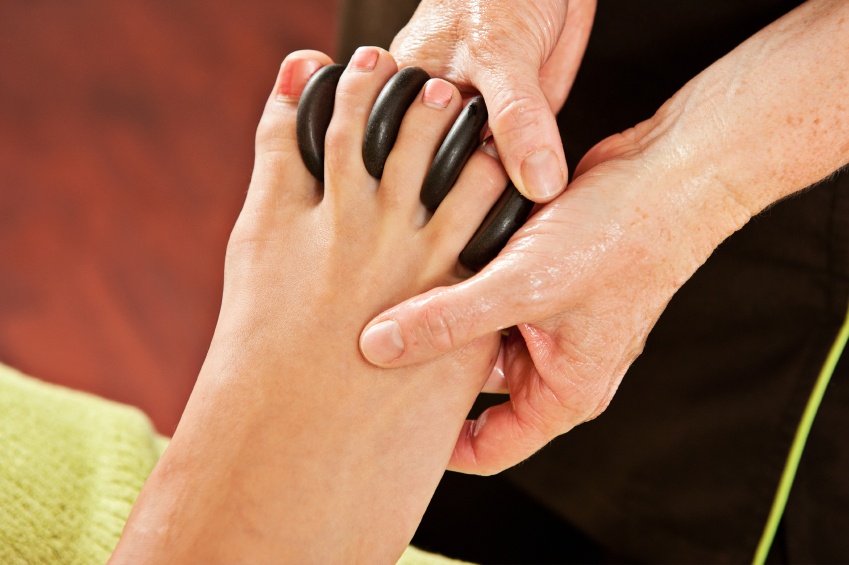 massaged with additional stones. You then turn over and the back of your body is then massaged. Due to the amount of stones involved in this type of hot stone massage, this is an hour and half session. This type of hot stone massage is usually more for relaxation.
Another way of receiving a hot stone massage is more like a conventional massage, but the therapist uses the stones instead of their hands. They may use their hands at times, to check what is going on or to do more precise work, but the focus is on the heat and depth of the stones. This type of massage can be useful for a deeper massage with a focus on problem areas. This massage can be used for just back, neck and shoulders or a full body, and this is decided by you.
Some people prefer hot stone massages because they like the heat, others prefer them because of the additional depth it can provide. The heat of the stones can loosen the muscles and allow deeper work, while the stone itself gives a deeper stroke than a therapists' hands can traditionally apply.
For therapists it is another option in our toolkit, which can help to loosen particularly tight muscles that aren't responding to more traditional methods. So, the next time you see a hot stone massage as an option, you'll know it won't be just placing hot stones on your back to relax you.
Louise is an holistic therapist who owns the Therapy Centre, BS14 9HB, a clinic offering a range of holistic and beauty therapies. Louise offers reflexology, aromatherapy, aromatology, holistic massage, Indian head massage, reiki, baby massage and story massage. She is a mum of two boys and when she is not working she enjoys getting outdoors with her family. For further information visit louise-morgan.co.uk or contact her clinic on 01275 217160