I've been in business over 10 years and I've noticed a change…And it's a good change! 
Over the years I've seen a few male clients, but I've noticed in the last few years there's been an increase in the number of men making enquiries and booking a therapy. As a Mum of two boys it makes me happy to see that men are taking an active interest in their well-being. My boys have always enjoyed therapy sessions and I did wonder if they would be likely to consider it when they're older, or if it would be considered as something 'weird to do'. 
So, why do we think it's taken so long for men to get on board the therapy train?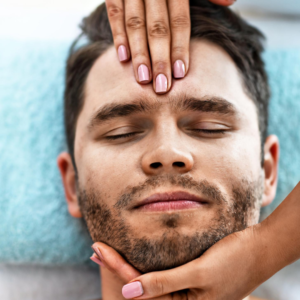 Part of it probably has been the connotation around 'massages'. During the pandemic there was uproar in the therapy industry that the government kept using the term, 'massage parlours'. My eldest son (who is 13) didn't see the problem, and to be honest, I didn't want to explain it to him. As an industry we've worked hard to move away from the seedier aspect and sniggering or lewd jokes when you say you're a massage therapist. We are trained professionals and using this language takes us back decades and sets up a stigma again. Men need to feel comfortable being able to contact a therapist without worrying about what they inadvertently may be getting themselves into. 
Another reason is men have always been told to 'man up' and get on with things. Therapies would be seen as a bit fluffy and 'girly', a pampering that 'men' don't do. Luckily, this is becoming another outdated view, and it has been helped by the rise of seeing massage therapists working on sports professionals during half time or before a game. Slowly, there has been a growth in visual messages telling men that it's ok to have someone give you a massage. 
We've been encouraging men to open up, talk to one another, look for support. Their wives, partners or friends may be suggesting therapies to help manage stress, and although it may have seen alien, men are willing to give it a go if they think it may help. When you've been suffering with insomnia, or the doctor has told you that you need to find a way to manage a chronic condition, or you're experiencing work aches and pains, then you may find yourself talking to friends for their suggestions. You may find they tell you about how they found a particular therapy helped them. If you're lucky, they may even give you the contact details! 
Points for men considering a therapy: 
Remember, the therapist is a professional. You may find a female mobile therapist might be apprehensive about arranging a visit, as its puts them in in a potential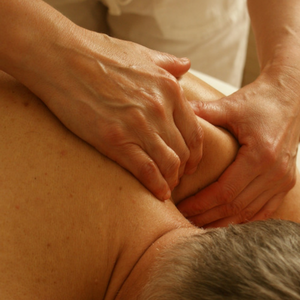 greater risk. Some mobile therapists are happy to see you if you have a female in the house, or they may have a policy where they will pass on your details to a trusted third party (they will tell you if they are doing this due to GDPR). You could always book a session with a male therapist, which may help you avoid these potential issues.
Look at your local clinics or therapy centres. They will be professional spaces where you can confidently book a therapy session and know you will be safe. 
If you're apprehensive about booking a therapy, then take a look at what the therapist is offering. Find someone you think you'll feel comfortable with. If the idea of getting undressed for a stranger is a bit too much, then you may want to start with an Indian head massage or reflexology. You will find that a therapist will usually leave the room or cover you with a towel while you get undressed, so you won't be fully exposed in front of them. 
Is it time for you to think about an appointment?
Slowly, men are realising the benefits of regular therapies, and how it's good to look after themselves. The benefits of therapies helps people regardless of how they identify and if you visit a clinic you should find they provide a professional, safe space to support your wellbeing.
Don't leave it too late, lots of men have already discovered the benefits of regular therapies – you won't be alone in taking an interest in your self care.
Louise is an holistic therapist who owns Therapy Centre, BS14 9HB, a clinic offering a range of holistic and beauty therapies. Louise offers aromatherapy, reflexology, holistic massage, baby massage, reiki and story massage. She is a mum of two boys and when she is not working she enjoys getting outdoors with her family. For further information, visit her website louise-morgan.co.uk